Croatia is having a heat wave. At 31° (89°F) in Dubrovnik, 33° (91°F) in Split and 30° (87°F) in Pula, locals and tourists are sweltering together. Authorities are warning people to avoid peak hours, drink plenty of fluids and avoid strenuous exercise. But you still want to enjoy your Croatian holiday despite the heat! Here's what to do to keep cool in Croatia:
Keeping Cool in Dubrovnik
Onofrio Ice Bar
After a walk around Dubrovnik's walls, duck into this small ice bar near to the Onofrio fountain and get your chill on. Yes they will provide you with a parka. Facebook page.
Kayaking
What could be more refreshing than a nice paddle around Dubrovnik's looming walls to Lokrum Island? The sea is clear, blue and calm. Coolness guaranteed. Book a kayaking tour now.
Elaphiti Islands Tour
Catch the sea breezes with a day cruise around the beautiful Elaphiti Islands. These lush islands lie just offshore from Dubrovnik and you can see all of them on a pre-booked cruise. Book an island tour now.
Snorkeling
Combine kayaking with snorkeling and cool off on and under the water. No experience necessary and all equipment provided. Book a kayaking and snorkeling tour now.
Keeping Cool in Split
Stroll Marjan Hill
The woodsy hill on Split's north side is the perfect spot to clean the lungs and freshen the spirit. There are beaches at the foot of the hill and a network of shady trails that lead to the top where you can finally catch a breeze. Read more about Marjan Hill.
Hvar, Vis and Blue Cave Tour
Escaping the city to swim, picnic and explore an island or two is a Croatian tradition. This cruise is by speedboat and includes the spectacular "blue grotto" near Vis island plus a stop on the island and a trip to Hvar. Book now.
Krka Waterfalls
Gorgeous Krka Waterfalls National Park is its own cooling station with splashing cascades, lakes, ponds and the Krka River. Explore independently or on a tour. Read more.
Kayaking
Whether four or eight hours, get out on the waters around Split and paddle along the indented coast to discover little coves and secluded beaches. Book a Split kayaking tour now.
Keeping Cool in Istria
Kayaking
Yep, you can kayak in Istria too! Rather than the sea, you can paddle up the gorgeous Lim Channel, a drowned river valley. You'd think you were in Norway. Book a Lim Channel kayaking tour now.
Porec Waterpark
Keep cool in Aquacolors Waterpark Just 2km south of Porec, this fun waterpark has 17 adrenaline-inspiring rides, a kiddie pool, a wave pool and lots of greenery. It's great family fun! Read more.
Aquapark Istralandia
Located in Brtonigla in the northwestern part of Istria, this vast waterpark boasts the largest wave pool in the Mediterranean, the highest slide and a hydromassage pool for adults. Adrenaline junkies will love it. Read more.
Baredine Cave
Also near Porec is this chilly cave, one of the few that's open to the non-speleological public. In addition to the rock formations, there are special exhibits highlighting local culture and history. Read more.
Scuba Diving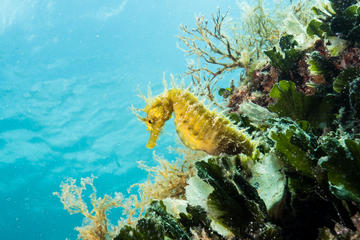 Have you always wondered what it's like to be beneath the waves? This Discover Scuba Diving course in Pula will take total novices on a safe, fun adventure amidst the fishes. Book a Discover Scuba Diving course now.
Save
Save
Save