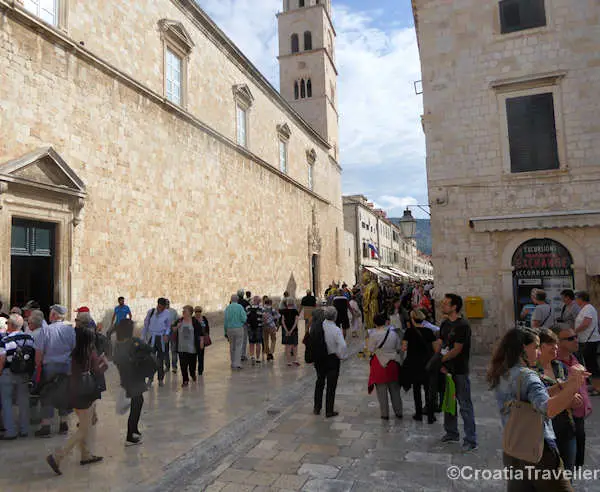 Often called the "pearl of the Adriatic", Dubrovnik's luster has dulled in recent years under a seemingly endless flow of visitors. Last year saw nearly 2.3 million people visiting the ancient city, an increase of 11% over the year before. And 2020 is on track to equal or exceed 2019 numbers.
So is Dubrovnik a tourist trap? It can be. Prices for everything from a beer to a sun lounger have been on a steady march upwards, nearly approaching any other luxury destination in Europe. Souvenir stands are everywhere along with mediocre, overpriced food.  From May through October, the walled city is often packed elbow-to-elbow with visitors clumping around the entrance gates, jamming the side streets, following ubiquitous Game of Thrones tours to the major attractions.
Cruise ships are a major part of the problem. Nearly a million cruise passengers descend on Dubrovnik each year. On some days 8000 or even 9000 passengers struggle to get inside Dubrovnik's famed walls which puts severe strains on the city's infrastructure as well as the patience of the locals.
This year the city is trying to fight back. Mayor Mato Franković has banned all new restaurants that rely on outdoor seating which should ease pedestrian traffic on the side streets. The mayor is shutting down 80% of the souvenir stalls which should be no loss to local crafts as most of the stuff is made-in-China anyway. Smaller city buses will ferry cruise passengers between Gruz port and the old town which should mean smaller crowds at the gates.
What the mayor has not done is limit cruise ship arrivals. Cruise ship arrivals are staggered to ensure that no more than two ships arrive at the same time. Mostly. There are occasional days when two ships do dock at the same time and all-too-frequent days when three or four ships arrive. Morning ships dock between 6 and 9am; afternoon ships dock at 2pm.
So what can you do to avoid the crowds? Come off-season if possible. From November to April the streets are lively with locals, not tourists and the atmosphere is much more relaxed.
If you must come during high season plan your visit around cruise ship arrivals. If you can manage to complete your visit before 9am, crowds shouldn't be too much of a problem. Note that Dubrovnik's walls do not open for visits until 8am however.
This city website gives a general idea of which days are most crowded but even better is the official cruise ship arrivals/departures guide. Here you get the exact arrival and departure times, the exact number of passengers and which entrance is likely to be busiest.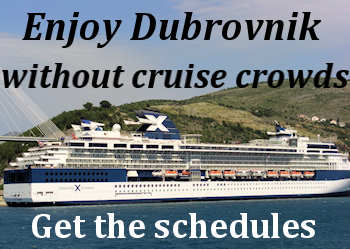 Buy a skip-the-line ticket to visit Dubrovnik's walls. Everyone who comes to Dubrovnik wants to walk the walls. Ticket lines can be long. Buy a skip-the-line ticket online in advance and at least you'll save some time there.
Choose your accommodation carefully. Staying in Dubrovnik's old town makes it easy to experience the city at its best–early in the morning and late at night. On the other hand, you'll pay premium prices for food and drink and will grapple with crowds on your way out of town to a beach or on a day trip. Staying in Gruz harbour makes it easy to take a day trip by boat but the road between the harbour and the old town can be clogged with buses carrying cruise ship passengers. Staying in Lapad is a calmer experience and the bus trip to the old town is short. Staying in Ploce is a nice compromise as the Ploce gate entrance is less busy than the western entrance at Pile.
Consider staying in a nearby town. Cavtat is a lovely port town only 20km south of Dubrovnik. Even closer is little Mlini only 11km south of town and with an excellent beach.
Consider skipping Dubrovnik altogether. Heresy? Maybe. But Croatia is packed with unique towns that provide a much more authentic experience of Croatia's history and culture. Split can also get crowded but as it's a large city the tourist crush is less claustrophobic. Korcula town has walls that are nearly as intact as Dubrovnik's and contain a wealth of Venetian gothic architecture. Further up the coast is Sibenik, with four recently restored fortresses. Or consider vibrant Zadar which offers Roman ruins, Venetian walls, plus the renowned Sea Organ and Sun Salutation. Northern Croatia from the Kvarner coast to Istria is rife with islands and fishing villages, hilltop towns and bustling cities. Take a look at newly-burnished Rijeka, the Roman ruins of Pula, pine-covered Mali Losinj, or irresistable Rovinj. Many people feel obligated to include Dubrovnik on their Croatian itinerary but it's not legally required! Feel free to skip it. I won't tell.