The Peljesac Bridge has finally opened, linking continental Croatia with southern Dalmatia.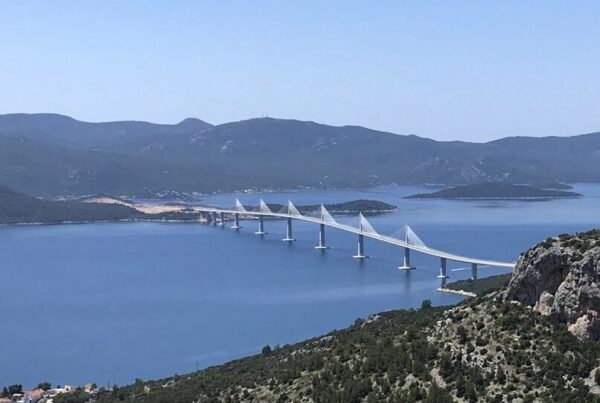 Wait, wasn't there always a link between inland Croatia and the southern Dalmatian coast? No! Ever since the end of the Homeland War in 1995 a tiny sliver of Bosnian territory at Neum created a border between the northern and southern coast. Although the idea was to give Bosnia an outlet to the sea, Croatians found the situation unsatisfactory. Croatians and visitors were obligated to pass through a border control that could become clogged in the busy summer months. It also created a problem for Croatia's eventual accession to the Schengen zone.
Enter the EU which agreed to cover 85% of the cost, with Croatia covering the other 15%. A Chinese company won the tender and work on the four-lane bridge began in 2018. It was supposed to be completed in 2021 but what major infrastructure project ever finishes on time?
The opening of the bridge on 26 July was the event of the year in Croatia, attended by politicians, celebrities and dignitaries. Bosnians were less enthused, worried about the bridge's impact on their own tourism. Although initially worried about the bridge's impact on the oyster farms on  Mali Ston bay, the people of Mali Ston were reassured by many environmental impact studies.  Very enthused about the bridge would be anyone on the beautiful Peljesac Peninsula which is now easier to access for both residents and tourists.
Visitors will also find it easier to access Korcula Island by car. The overcrowded Ploce-Trpanj ferry can now be bypassed. Just drive to the pretty coastal village of Komarna and take the bridge to Brijesta. Pick up the road to Orebic and board the Orebic-Domince ferry to Korcula. Or, just continue down the coast to Dubrovnik. It's all so easy!
Peljesac Bridge on the Map