As a general rule, restaurants in heavily trafficked tourist locations offer poor value for money. But rules are meant to be broken! Adriana Restaurant in Split is right smack in the centre of Riva, Split's harbourside promenade, and the quality is excellent.
I wandered into the restaurant a few weeks ago, weary and footsore after a day of sightseeing.  There's a spacious outdoor terrace but, as the weather was chilly, I was happy to settle into an elegant interior of burnished wood and soft lighting.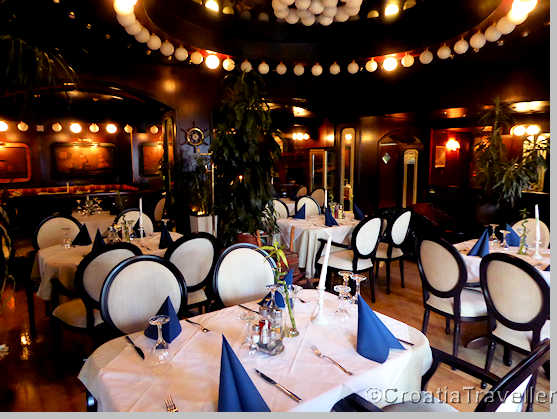 The waiter was formal and slightly intimidating in keeping with the overall style of the restaurant. He strongly recommended the grilled calamari which I ordered as it's one of my favorites anyway. The wine list displayed a good selection of Croatia's finest wines. I settled on a Plavac from Peljesac.
While waiting for the main course, the waiter brought over a fish paté which is a standard palate-tickler in Croatia. It was good but the grilled calamari was outstanding. It was priced at 140Kn (€19) per portion which seemed expensive to me. I remember (way back!) when I could get a grilled calamari plate for 90Kn but those days are over. In fact, 140Kn  for a plate of fresh calamari is now considered reasonable.
The calamari was succulent. Tender but chewy, gently perfumed with parsley and garlic, it couldn't have been better. The Plavac was also excellent but quite expensive. I was happy that the waiter didn't charge for a second glass.
The Adriana restaurant is part of the Hotel Adriana at Obala preparoda 8.
See more Split dining options.