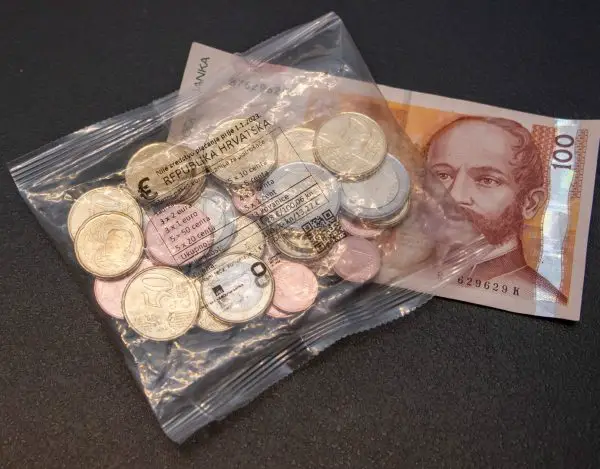 2023 brings serious changes to Croatia's borders and banks as the country enters the Schengen zone and adopts the euro as its official currency. Both changes will make it easier for visitors to Croatia. No more long passport checks at the land borders of Italy, Slovenia, Austria and Hungary which are already in the Schengen zone. No more complicated currency conversions into a currency (kuna) that couldn't be used outside the country. Let's look at each change in detail.
Schengen Zone
As of 1 January Croatia became part of the Schengen Zone which allows borderless travel among the following countries: Austria, Belgium, Croatia, Czechia, Denmark, Estonia, Finland, France, Germany, Greece, Hungary, Iceland, Italy, Latvia, Liechtenstein, Lithuania, Luxembourg, Malta, Netherlands, Norway, Poland, Portugal, Slovakia, Slovenia, Spain, Sweden, and Switzerland.
As a member of the Schengen Zone, a visit to Croatia is limited by the "90-day rule". That is, non-EU residents are limited to a 90-day visa-free stay within the zone before they must leave for 90 days. For example, if you enter Croatia on January 1st and spend 90 days in the country until June 30th, you cannot return to Croatia or any other Schengen zone country until at least the end of September.
The good news is that congestion at Croatia's borders with Slovenia, Italy, Austria and Hungary should be substantially reduced. Note that Bosnia-Herzegovina and Montenegro, two popular day trips from Dubrovnik, are not within the Schengen zone. A passport must be presented at these borders when entering or leaving Croatia.
Eurozone
The kuna, Croatia's former currency is finished. Now, the official currency is the euro. You may still see prices in kuna online, in which case just apply the exchange rate of 7.53 kuna to get the euro rate. Stuck with kuna from your last trip? The Croatian National Bank (HNB) will enable the exchange of kuna banknotes to euros for the foreseeable future. Kuna coins can be exchanged for the euro until the end of 2025.
Effects in 2023
Will Croatia become more expensive? Hard to say. On the one hand, Croatia has experienced inflation this past year like many other eurozone countries. On the other hand, the movement of goods across the border should be easier and less expensive with Croatia's entry into the Schengen zone.
Almost certainly Croatia will experience an increase in visitors this year as it becomes easier and cheaper for Europeans to visit. Time to start travel planning!