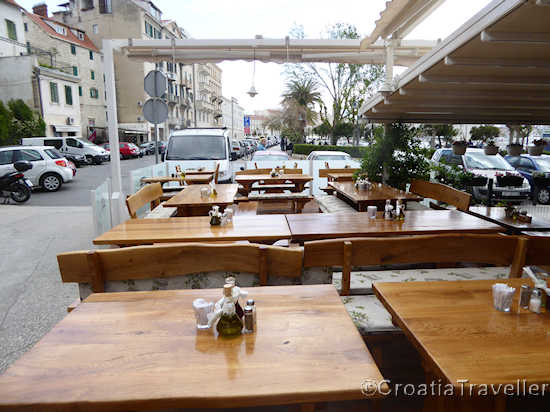 Is there such a thing as too much guidebook love? Buffet Fife in Split has been a staple of guidebook writers for years. Once upon a time, it was genuinely a local joint where fishermen, students and workers could chow down massive portions of fried fish and wash it down with good local wine.
Those days are past. On a recent visit, I saw no locals whatsoever but plenty of tourists bent over their smartphones taking advantage of the restaurant's free, fast WiFi connection. Thanks to its renown, Buffet Fife has now expanded to include a spacious terrace. The long, family-style tables are still there which makes dining convivial. It's a good place to meet other travellers to swap stories and tips.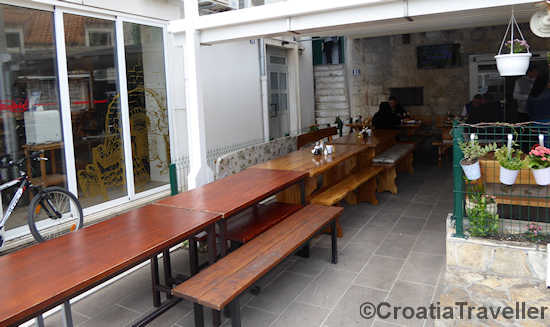 It's not a good place to sample authentic Dalmatian food however. I began with a "fish soup" that really meant undercooked rice in a fish stock. Unimpressive. The black risotto I sampled on a recent visit was the worst I've ever had. Yes, the portion was so massive I couldn't finish it but also there was something off about the taste that made me not want to.
Because the risotto came so quickly, it was obvious that it had been cooked earlier and only heated up. I noticed that other dishes also came out of the kitchen in a hurry which made me suspect that freshness had been compromised.
Prices are low, that's for sure. But here's the thing: fresh fish, calamari and Adriatic shrimp are necessarily expensive in Croatia because fishermen with boats have to go out and find them. If I'm seeing a big plate of fish and seafood for under €10 I have to assume they come from a freezer.
The emphasis here is on fried fish, meat, potatoes and rice. Portions are big enough that you won't go away hungry but for just a few kuna more you can eat much better.
See more dining suggestions in Split.
Buffet Fife is conveniently located at Trumbiceva Obala 11 on the edge of the Veli Varos neighborhood. It is cash only.
Save