Autumn in Croatia: Top Ten Trip Ideas
Autumn in Croatia is a delight. The tourists have left, accommodation prices are low and the weather has cooled down enough to make outdoor activities comfortable. The cultural season is in full swing with events for foodies, cinephiles, music-lovers and artists. It's a wonderful time to participate in local life and experience the Croatia that tourists never see. Here are the top ten events, destinations and activities to incorporate into your forthcoming Croatian trip.
Cycling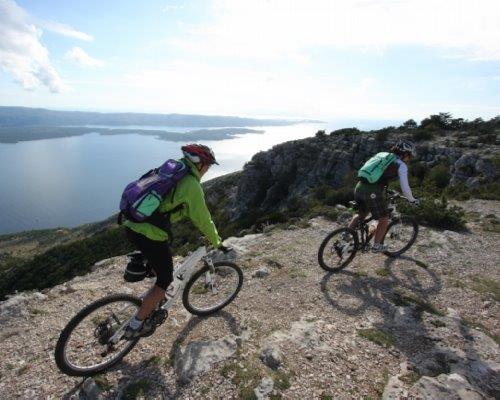 Autumn is the ideal cycling season in Croatia. Cycle along the coast and you may find the weather just dry and cool enough to make cycling a pleasure, yet warm enough to take a refreshing dip in the sea.
[What will the weather be like when you visit?]
Of all Croatia's regions, Istria's rolling terrain is the best suited for all levels of cycling with many miles of well-marked and little-trafficked roads. But if Istria is not part of your itinerary, fret not. You can spend a day or half-day cycling from all major tourist destinations. In Split, Marjan hill is ideal for cycling and swimming; in the Dubrovnik region cycling and kayaking is a popular combination.
[Find an organised cycling tour.]
[Independent cycling in Croatia]
Istrian Truffle Days
Istria is known for its truffles which are available and on local menus all year round. The truffle hunting season begins in September which is when the highly prized white truffles are dug from the earth. Then comes the finest variety of black truffle which appears in January and lasts until late spring. A lesser caliber of black truffle is available throughout the year.
To properly celebrate the launch of truffle season, head to Istrian Truffle Days, a yearly event held where truffles are most commonly found: Buzet and Livade, near Motovun. It's a great opportunity to pick up truffle products, learn about truffles, talk truffles with the locals. and taste the tubers in local dishes.
The Truffle Days festival is held on weekends now until 6 November. Get the schedule here.
[What to see and do in Istria]
Food Film Festival Zagreb
Zagreb's people are obsessed by two things: food and movies. Finally they've figured out to combine them: organise a food festival around movies that have a food theme. Held in Zrinjevac, Zagreb's central square, first there's a screening of a movie and then local chefs riff on the dishes featured in the movies. The festival ends this weekend with Mostly Martha and Sideways.
No reservations are necessary but you can check out the details here. The list of participating restaurants gives a good idea of where to eat in Zagreb.
Zagreb Film Festival
One of the pleasures of visiting movie-mad Zagreb is that foreign movies are always played in their original version with Croatian subtitles. All the more reason for cinephiles to drop in on the Zagreb Film Festival, held this year from 12 to 20 November. The foreign film section contains a number of films in English and there's an interesting Orson Welles retrospective that includes films he shot in Zagreb. Entry is 30KN. Check out the program here.
Plitvice Lakes National Park
Croatia's most popular national park is drowning in tourists during the summer but in the autumn the 16 turquoise lakes and innumerable waterfalls return to their natural state. The air is cool, accommodation is plentiful and the autumn colors are unforgettable.
[A travel guide to Plitvice Lakes National Park]
Varazdin Baroque Evenings
Varazdin, north of Zagreb and easily accessible by train or bus, deserves to get more visitors than it does. Once Croatia's capital, this prosperous commercial town is known for its stunning baroque architecture and for its prestigious Varazdin Baroque Evenings, a festival consecrated to baroque music. Each year the festival partners with another country to showcase its baroque music and this year the partner country is Spain.
The festival takes place in a variety of venues around town and will take place from 23 September to 3 October. Advance reservations are advisable. More here.
Marunada Chestnut Festival
The northeast corner of Istria prizes chestnuts or marunada. But this annual festival is more than a chestnut party. Sure, there are a million ways to consume chestnuts most of which are displayed here, but this fun festival also features races, competitions, music and dancing. Watch locals try to outdo each other in bocce, hiking, fishing and cycling or take in a performance of Istrian music or folkdancing. The festivities take place on weekends from 8 to 23 October. The center of the Marunada Chestnut Festival is  Lovran with events also taking place in nearby Dobrec and Liganj. Get the schedule here.
Oliver & Gibonni
Croatia's two pop icons, the songwriter known as Gibonni and the singer Oliver Dragojevic team up for the pop event of the season on 7 October in Split's arena. These beloved artists had hugely successful careers independently and have now teamed up to bring their brand of Croatian pop-rock to an even wider audience. Combining elements of traditional Dalmatian folk songs with a jazzy harmonies and a modern beat, the concert is an opportunity to experience the best of contemporary Croatian music.
Reserve here.
Hiking in Paklenica
Paklenica National Park is rarely visited by foreigners  but it should be. Steep cliffs, towering peaks, dramatic gorges, acres of forests, caves and creeks make Paklenica an unmissable stop for nature-lovers. Plus, its proximity to the coast makes it possible to combine swimming and hiking on the same day. Paklenica is easily accessible from Zadar.
[What to see and do in Paklenica]
Art Colony Lokrum
Artist alert! On 1 October you are invited to participate in an annual celebration of art and artists on Lokrum island, a short hop from Dubrovnik. Meet with other artists in Dubrovnik and board a boat to Lokrum where the painting will commence. The price includes lunch, brunch, painting supplies and transport. For details, click here.
[What to see and do on Lokrum island.]