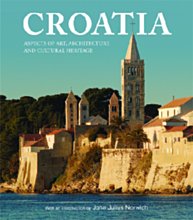 The brilliant new coffee-table book, "Croatia Aspects of Art, Architecture and Cultural Heritage" is the first of its kind in English to seriously and comprehensively tackle Croatia's extraordinarily rich artistic and architectural heritage. Published late in 2009 by Frances Lincoln Limited, this handsome and gorgeously photographed edition boasts a stellar line-up of experts, each of whom contributes an in-depth article covering an aspect of Croatian art. The result is a work that highlights Croatia's artistic achievements within the context of Western European culture as at rose from the ancient Greeks through the Italian renaissance to this day.
The introduction by John Julius Norwich provides a brief overview of Croatia as a country whose geography foretold a turbulent history that Stjepan Cosic expands upon in the following "Survey of Croatian History" chapter.
Next up is a study of "Ancient Greeks in Croatia" by Branko Kirigin. Where did those ancient Greeks leave traces? On tiny Palagruza Island, Korcula Island, Hvar Island and Vis Island.
"Roman Art in Croatian Dalmatia First to Third Centuries AD" by J.J. Wilkes covers Roman sculpture, stele, and reliefs many of which are on display in Zadar, Split and Salona archaeological museums.
"The Palace of Diocletian at Split" merits its own chapter and Sheila McNally handles it intently, with an in-depth and illustrated analysis of all that is known, not-known and imagined about this splendid site.
"Illuminated Manuscripts in Croatia" by Christopher de Hamel has beautiful photographs of  manuscripts that are otherwise inaccessible to the public and an explication of Croatia's unique "Glagolitic" script.
The Franciscans and Dominicans had a huge impact and "Gothic Art & The Friars in Late Medieval Croatia" by Donal Cooper is an essential guide to their convents in monasteries that stretch from Pula to Rab, Zadar, Trogir, Split and Dubrovnik.
And then there's an entire chapter devoted to one single chapel in Trogir's St Lawrence (Sv Lovro) cathedral. David Ekserdjian goes out on a limb in "The Renaissance in Croatia & Italy: The Chapel of the Blessed Giovanni Orsini" by calling it "an ensemble whose sheer artistic quality and virtual completeness make it one of the most remarkable sculptural decorations of the entire Renaissance". He then explains.
Josko Belamaric expounds upon the painter "Nikola Bozidarevic" whose few surviving works are one of the many artistic treasures of Dubrovnik.
The history of Dalmatia is closely entwined with that of Italy which naturally gave rise to much creative comingling. "Italy & Dalmatia: Architecture, Sculpture, Painting & the Decorative Arts" by Timothy Clifford explores the interaction between the two locations pointing out highlights in Split, Trogir, Sibenik, Hvar, Korcula, Peljesac and Zadar.
And what would a Croatian art book be without a discussion of Dubrovnik? A book with a big hole. "Dubrovnik: Italian Art" by Timothy Clifford is essential reading for anyone who wants an in-depth look at the artistic treasures in Dubrovnik's monasteries and museums.
The castles of Zagorje are too often overlooked by visitors to Croatia. "Castles & Manor Houses of Croatia" by Marcus Binney will hopefully inspire visitors to hop in a car and take a tour of the fairy tale castles and stately manors north of Zagreb.
And speaking of Zagreb, I'm embarrassed to admit that I have often recommended the Mimara Museum in Zagreb. No more. Brian Sewell issued a withering condemnation of the Mimara collection in "Museums of Zagreb". The visitor is "dumbfounded" by the number of  "questionable attributions and with problems of wear, abuse and restoration".  The author fervently hopes the museum will be closed and the "few fine paintings" transferred to the more prestigious Strossmayer Gallery of Old Masters.
Although Croatia Aspects of Art, Architecture and Cultural Heritage is way too bulky to drag along on your holiday, perusing it before your trip will vastly enrich your Croatian experience and returning to it afterwards will flavour the memories of your visits.
You can order the book directly from the publisher's website.