It was sweltering in downtown Pula but we had to check out the Roman amphitheatre of course. A cleanup of the facade was underway which the ancient structure desperately needed. I especially liked the cool cellars underneath the amphitheatre which harbored an exhibit on the Roman presence in Istria.
Pula has a thriving cultural life all year round. In the summer, a regular series of performances are held in the amphitheatre. The rest of the year film, music, dance and theatre troupes continue to stage regular events. We were treated to a dance show in the town center which showcased the astonishing variety of styles taught in the local dance schools.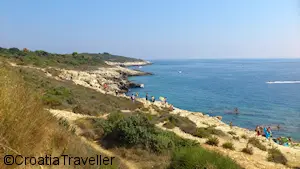 We stayed in
Verudela
, a resort area about 5km out of town, with a number of hotels and a stretch of rocky beach. It was peaceful but even better was heading out to the Premantura peninsula which has been turned into a protected nature park. There are a number of rocky beaches tucked away along the rocky shoreline. We chose Kamenjak Rt, a popular spot for bathing locals. No wonder! The water was incredibly clear and the snorkeling was fantastic.
We finished up our stay with a trip to the Brijuni Islands National Park a place of historical interest as it was the residence of former Yugoslav President Tito and of tremendous natural beauty.