New Split to Dubrovnik Catamaran 2017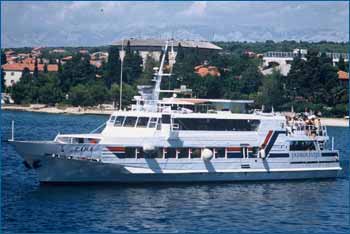 Island-hopping in Croatia just got easier! There's a brand new passenger ferry that will connect Split and Dubrovnik via Hvar, Korcula and Bol (Brac island). Building on the success of last year's route that ran from Dubrovnik to Hvar, Korcula, Bol and back, this year's route will extend as far as Split. Starting on 9 June and running until 18 September, this new route will run daily, leaving Dubrovnik in the morning and returning from Split in mid-afternoon.
[Get the full schedule and prices here]
One thing you will notice is the relatively high price of this catamaran. At 200Kn between Dubrovnik and Split, you may very well do better to rent a car which would also be about three hours faster. Another option would be to take a bus.
[See timetables, prices and online booking for Split-Dubrovnik buses]
This passenger ferry is run by Jadrolinija (online booking on their site) but the Krilo company normally runs another passenger ferry–Dubrovnik-Mljet-Korcula-Hvar-Milna (Brac) and Split. I've been assured that this service will run this year but the schedule is not yet out.
[See last year's schedule for reference]
For more local ferries, see:
Save