So you have some ideas of places you'd like to visit in Croatia but no idea how to organise them into a workable itinerary that will add up to a holiday?
Croatia Traveller is here to help! I have devised seven great travel plans that take in all of Croatia's top sights in a series of seven, ten and 14-day itineraries. Whether you're flying into Zagreb, Pula, Split or Dubrovnik and getting around by car or public transport, these itineraries are fun and workable. Take a look:
You don't have to be a honeymooner to enjoy the best of Dalmatia in one week. Still, the red roofs, blue seas and evocative architecture on this itinerary murmur "romance". You'll visit Split, Hvar Island, Korcula Island and Dubrovnik in seven compactly-organised days. You can fly into Split and out of Dubrovnik or vice versa. More.
Starting in Split and finishing in Dubrovnik, take time to explore the legendary islands of Brac, Hvar, Korcula and Mljet as well as the World Heritage Sites of Trogir and Montenegro. More
Whether you have one or two weeks, are travelling via car or public transport, this collection of itineraries in northern and southern Dalmatia will show you how to do it. More. 
Or maybe you'd like to take an island cruise?
Three National Parks and five World Heritage sites in only 10 days? Yes, you can! Begin in Zagreb and end in Dubrovnik for this unique taste of Croatia that includes Plitvice Lakes, Zadar, Split, Trogir, Mljet Island and the Kornati Islands. More.
Beginning in Pula and ending in Porec, this nine-day itinerary takes you to the most renowned highlights of the region often called the "new Tuscany". This is a great route for those flying into and out of Venice as both cities are well-connected by catamaran with La Serinissima. More.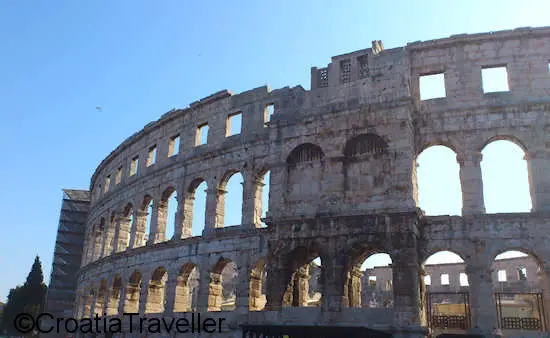 Pula's Roman Amphitheatre
For a more in-depth look at Istria's remarkable history, follow this seven-day itinerary that includes the archaeological parks of Dvigrad and Nesactium as well as Pula, Porec, Rovinj and the Brijuni Islands National Park. More.
Beginning and ending in Pula (which has international flights), this 14-day itinerary includes the best of Istria plus family-friendly islands in the Kvarner gulf, such as Rab, Krk, Losinj and Cres. More.

Croatia's most popular region is the indented coast, sparkling sea and lush islands of southern Dalmatia. Between Split and Dubrovnik lie Brac, Hvar, Korcula and Mljet islands, clear  contenders for the world's most idyllic vacation spots. Getting out to the islands from the coast is easy all year round but jumping from island to island, not so much. Inter-island boat transport is almost exclusively for visitors as islanders rarely feel a pressing need to hop over to another island.
Last year, Krilo company started the first catamaran route that ran from Split to Milna on Brac island, than continued to Hvar and Korcula before docking in Dubrovnik. It was highly popular with visitors and now Croatia Traveller has learned that the company will run the route this year from May to October and will add Mljet to the itinerary. Glorious Mljet with its National Park is a highly recommended stop on any itinerary. It's said that legendary wanderer Odysseus came to Mljet and was so entranced he stayed for seven years.
Last year the ferry only ran twice a week but a Krilo representative has informed Croatia Traveller that the plan is to run the boat daily this year, at least during the summer season. Let's keep our fingers crossed as a daily route would allow so many more visitors to experience Croatia's most spectacular islands.
Booking is not yet open for the route. Even the schedule is only posted here on Croatia Traveller but it comes straight from Krilo.
The timetable is part of Croatia Traveller's just-published Dalmatia Ferry Guide Summer 2015 with ALL the summer ferry timetables in one downloadable pdf guide. Along with timetables you get booking information for each route (there are six different companies!) plus prices plus free email notifications whenever there's a change or an update (of which there are usually several). So, as soon as the Krilo schedule is confirmed and online booking opens you'll find out.
Download your ferry guide today!
Your purchase includes free updates to the schedule
through September 27, 2015

Your purchase includes free updates to the schedule
through September 27, 2015