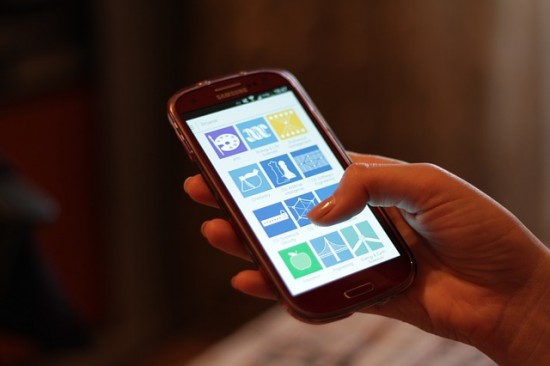 I don't know about you but my pre-trip to-do list is usually packed with chores. Research airfares, devise an itinerary, work out transport, book hotels, assemble maps, guidebooks, online info. Weighing the pros and cons of a variety of apps just adds to the burden. Yet easy, portable, free apps can add immeasurably to a holiday.
So I've looked into the available Croatia apps on various platforms and chosen the ones I think are most helpful both in planning your trip and while on the road. I admit that I'm partial to apps that actually add value to what's available on the internet whether in terms of content or usability. It's also important that the app is kept updated, particularly for schedules, opening hours, contacts and the like. I've checked the apps below and right now, these are the best Croatia apps for 2015.
General Croatia Apps
Croatia.hr
Developer: Five Minutes Ltd for the Croatian Tourist Board
Platform: iOS Croatia.hr
                   Android Croatia.hr
                   Symbian Croatia.hr
Price: Free
Review: This attractive and useful app has up-to-date information on local events and festivals as well as other destination information. The offline mode is also fully featured.
mX Croatia
Developer: Mobiexplore
Platform: Android mX Croatia
iOS mX Croatia
Opera mX Croatia
Price: Free
Review: With an fun and intuitive interface, this app is notable more for breadth than depth of destination information. Good for WiFi locations with map. Time for an update.
Transport Apps
Buses
GetbyBus
Developer:www.getbybus.com
Platform: iOS GetByBus
                   Android GetByBus
Price: Free
Review: The selection of intercity routes is complete and certain routes are payable from the app. For "not available" routes, buy tickets at the bus station. See more about Croatia buses.
Trains
HZNET
Developer: dKorunic
Platform: Android; Hznet
Price: Free
Review: In Croatian but fairly straightforward to work out. The interface is basic and there are no online reservation possibilities but it's better than the Croatia Railways website. See more about Croatia trains.
Driving
HAK Traffic
Developer: HAK (Croatian Automobile Club)
Platform: iOS Croatian Traffic Info
                    Android Croatia Traffic Info
Price: Free
Review: Excellent and useful app in several languages including English with up-to-the-minute road conditions, plus border crossing info, ferry delays, toll charges and a traffic forecast. See more about driving in Croatia.
Dubrovnik Apps
Libertas
Developer:Libertas Dubrovnik
Platforms: iOS LibertasApp
                     Android LibertasApp
Price: Free
Review: Dubrovnik's local bus company puts out this app of limited functionality. There's no search function only static bus schedules. See more about Dubrovnik buses.
Developer: Mario Vargek
Platforms: Android Zagreb Tram
Price: Free
Review: In Croatian but somewhat useful for the tram maps and downloadable bus and tram schedules in pdf format. See more about Zagreb public transport.
Zagreb Airport
Developer: Ivica Sindicic
Platform: Android Zagreb Airport
Price: Free
Review: Arrivals, departures plus useful numbers for taxis and car rentals. See more about Zagreb airport.
Developer: Scards
Platform: iOS Zagreb Flights
Price: Free
Review: Arrivals & departures.
Split Apps
Split Bus
Developer: Antonio Marin
Platforms: Android Split Bus
Price: Free
Review: Quite a useful app only partially in Croatian but with an easy-to-understand interface, downloadable schedules and interactive maps. See more about Split public transport.
Split Flights
Developer: Scards
Platform: Android Split Flights
                    iOS Split Flights
Price: Free
Review: Useful for keeping track of arrivals and departures. See more about Split Airport.
Travel Guide
Developer: Mobiexplore
Platforms: iOS Mx Split Travel Guide
Android Mx Split Travel Guide
Price: Free
Review: Attractive and reasonably up-to-date app with some useful maps, attraction information and phone numbers. Shopping and restaurant listings are paltry however. See more about visiting Split.
It was years in the making and isn't quite finished but Zadar's new port at Gazenica is now receiving its first car ferries. Located 3km southeast of the Zadar's Old Town, the new port sprawls over nearly 1.5km of coastline and can accommodate large cruise ships as well as ferries. The port cost 144 million euros and was designed by star Croatian architect Nikola Basic, renowned for Zadar's Sun Salutation and Sea Organ. The next phase is the construction of a terminal building which is scheduled to be completed in 2017.
Not that Zadar's other port, now the City Port, is abandoned! Passenger ferries will still dock at the City Port, right outside the Old Town but moving the car ferry terminal out of town will relieve traffic congestion on Zadar's eastern side.
Simultaneously with the opening of the port on 30 March, Jadrolinija started a new passenger service from Zadar City Port to Preko on Ugljan island. (See the schedule)
Those travelling to or from Zadar need to be aware that the Ancona-Zadar ferry and all car ferries from Zadar to the surrounding islands will use the Gazenica port. For specifics and transport to the town center, see Zadar ferries.