Archive for the 'Croatia Travel' Category
Despite what you may have read elsewhere, there are no fast trains running from Zagreb to the Croatian coast. Introduced with much fanfare in 2004, fast "tilting trains" were supposed to cut travel time between Zagreb and Split to 5 1/2 hours. They did for a number of years but not without problems. In 2006 there was an accident when a train crashed into a lorry and in 2009 there was a serious accident in Rudine that killed six passengers and injured 55.  Shortly thereafter, changes were made.
In an interview today, a spokeswoman for Croatian Railways, Mihaela Tomurad Sušac, confirmed that there is now only one tilting train in service on the Zagreb-Split line and that it is not running at top speed due to infrastructure problems. Basically, the tracks cannot handle the trains. Five other tilting trains are due to be back in service at the end of 2013 and the seventh should be back at the end of 2014. Although they will not be running at top speed, these modern trains will provide a comfortable experience for passengers. Ms Susac expects that infrastructure improvements will allow top speeds to be achieved again in 2015.
I was curious about the issue because I recently booked an overnight compartment from Zagreb to Split and was told that on many routes it was necessary to take a bus to Karlovac and board a train from there. Not on my overnight fortunately! Ms Susac confirmed that there is ongoing repair work on the tracks which required this inconvenience and that, due to another derailment, there was even more repair work on that line scheduled this month.
Bottom line for travellers: before buying your ticket, especially for an overnight, find out whether you'll be taking a train or a bus. See more about Croatian trains.
My trip went very well, by the way. Although cramped, my tiny two-person compartment, had a sink, soap and, most importantly, hot coffee in the morning.
Visitors are starting to trickle into Dubrovnik now that the Adriatic sunshine is warming up the city's ancient stone walls. The first cruise ship of the season steamed into Gruz port on March 29, launching what is expected to be a record season of at least one million cruisers. To handle the crowds of cruise passengers, Dubrovnik has opened a new cruise office in Gruz. With 60 direct routes to European cities and more than six thousand flights, Dubrovnik Airport will also be a busy place this year. The airport is struggling to manage the influx of visitors which is why it has been slated for a €220 million expansion over the next seven years.
So, what's new?
Prices
To be honest, the Dubrovnik municipality has become very adept at turning their charms into money. Prices have climbed substantially for nearly everything. The local bus ticket that once cost 8KN (€1.05) is now 12KN (€1.60) (see more on local buses). The cost of walking Dubrovnik's famous walls is now 90KN (€11.80) and using a public toilet in the old town will climb to 10KN (€1.31) this summer. Like most of Dubrovnik's museums, the illustrious Rector's Palace will now cost 70KN (€9.20) to visit. Ouch. Gone are the days when Dubrovnik was considered an inexpensive alternative to Western Europe's more mainstream destinations.
Hotels
At the top of the line, the five-star Villa Orsula is reopening after a six-month overhaul. Chic enough for a sheik, Villa Orsula was once a private residence that has now added state-of-the-art technology to its courtly rooms. Villa Orsula is in the Ploce neighborhood, an easy walk from the old town and with gardens stretching down to the sea.
Attractions
Sokol Grad
In the Konavle region, Sokol Grad is a restored fortress whose history stretches back to 2000 BC. Recently restored and open to the public, part of the fort has been turned into a museum exhibiting rare artifacts that evoke the importance of the fort to the Republic of Ragusa. Built upon a hill, the fortress also affords a sweeping view of the rugged coastline of the Dubrovnik Riviera.
Festivals
Dubrovnik International Opera Festival
From July 3 to 6, this  festival has been mounted to honor the tenor Tino Pattiera, born in
Cavtat
. A series of recitals and concerts are held in and around Dubrovnik's most famous monuments.
More
Dubrovnik Summer Festival
It's the highlight of Dubrovnik's summer season with a glorious mixed bag of theatre, music and dance. This year's festival runs from July 10 to August 25 and features Rufus Wainwright, Mozart's
Cosi Fan Tutte
, Prokofiev's
Romeo and Juliette
and the Lindo Folklore Ensemble. Tickets are on sale now.
More.
Dubrovnik International Wine and Jazz Festival

What a great combination! this year's festival runs from September 26 to 29 and features singer Diane Schuur.
More.
Other Events
NATO Parliamentary Assembly
It will be the largest governmental gathering in Croatian history and is expected to bring some 800 international visitors. Running from October 11 to 14, this prestigious event will likely cause major disruptions to transport and accommodation.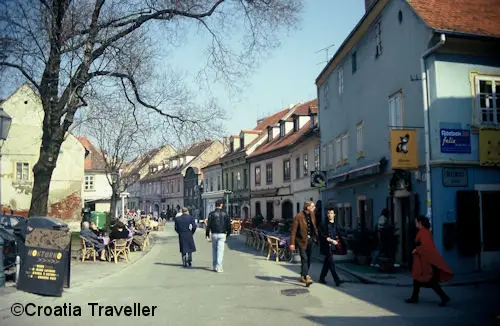 Croatia's capital city is gearing up for a sizzling spring season crammed with concerts, art exhibits and nightlife. Lucky you if you're visiting Zagreb within the next few months. Let's look at the top highlights.
Happening Now
In Zagreb now? Then rush right over to the International Wine Tourism Conference and educate yourself on the wonders of wine, especially Croatian wine.
Coming Soon
American jazz legend, Ron Carter, will open the Croatian Jazz Festival on March 18 at Lisinski Hall. He'll be followed by a succession of Croatia's finest jazz musicians.
A major Pablo Picasso exhibition will open on March 23 at the Klovic Palace art gallery. Over 670-million euros worth of Picasso's painting and sculpture have been shipped from the Picasso Museum in Paris for this art event of the season. Not to be missed.
Zagreb will be one of four Croatian cities to host the World Art Games from June 29 to July 10. The "Art Olympics" are expected to showcase the work of dozens of Croatian and international artists.
Nightlife
After soaking up Picasso at the Klovic Palace art gallery, why not treat your ears to a new indie-music spot right on the gallery grounds. Klub Zedno will present the latest music of all genres on weekends from 9pm to 4am.
New Museums
Croatia's first car museum, the Ferdinand Budicki Museum, will open this June with more than 50 classic cars and motorcycles. Until its opening, classic cars from its collection are being displayed on Zagreb's squares.
Flights
Expansion plans for the Zagreb International Airport at Pleso have not been going well. Although the construction of a new terminal was supposed to be shovel-ready in April, financing and other difficulties have delayed the start of the 365-million euro project until at least September. For travellers, that's probably a good thing since it means that the airport will not be in construction chaos during the height of the summer season.
Croatia Airlines will not be connecting Zagreb with Belgrade this summer despite rumours to the contrary, and has also cancelled services to Istanbul and London Gatwick as part of cost-cutting measures. Croatia's troubled national carrier will still operate flights to Heathrow although that will also be reviewed next year according to EX-YU Aviation News.
The UK has long been a hospitable destination for emigrating Croatians so it makes sense that the British Croatian Society is going all out to celebrate Croatia's forthcoming admission to the EU, scheduled to take place on July 1 of this year. Welcome Croatia is a series of events covering Croatian art, literature, and archaeological history that are taking place in various London venues. More than just sun and sea, Croatia also has a rich cultural history that deserves to be explored whether you're ready to get inspired for your Croatian holiday this year or you would just like to see what the EU's newest member is all about. Here are some of the highlights:
Lecture on Croatian Bishop Josip Juraj Strossmayer
February 25
The man and his fine art collection belonging to the Strossmayer Gallery in Zagreb is the subject here.
Urban Planning of Trogir in the early Renaissance
March 18
Croatia's most beautiful city and a UNESCO World Heritage Site will be discussed.
Croatian Writers Society at the London Book Fair
April 15-17
The Croatian Writers Society has taken a booth at the London Book Fair. Croatian writer Josip Novakovic is in the spotlight this year as he has been shortlisted for the prestigious Man Booker prize.
Croatia at the Crossroads
June 24-25
Find out all about historical Croatian through its archaeological finds. Featuring 25 archaeologists.
And there's more! Check out the Welcome Croatia website for updated schedules, events and ticket information.
Osijek Airport has known its share of hard times along with the rest of Slavonia in eastern Croatia. During the war that tore apart former Yugoslavia, Osijek airport was largely destroyed. Although the rebuilding was completed years ago, the region's slack economy has never picked up enough to justify regular flights to the airport for business people. Nor is Slavonia attracting enough tourists to make holiday flights profitable. Before the war, Osijek Airport was handling 38,000 passengers a year; this year's numbers are just short of 2200.
For a while Ryanair ran flights from Osijek to Frankfurt but the route ended and the airport flirted with collapse. Now Croatia Airlines has announced regular flights in 2013 between Zagreb and Osijek that will run five times weekly. In the summer of 2013, there are planned flights from Split and Dubrovnik to Osijek.
This is good news for travellers who aim to get off-the-beaten-track in Croatia. Osijek is a historically important town on the Drava river with remnants of its proud Hungarian heritage. It sits in the midst of the Slavonia region which, although ravaged during the war of the early 1990s, boasts one of Europe's most renowned ornithological reserves,  Kopacki Rit Nature Park.
A flight to  Osijek makes it easy to get to nearby Hungary as there are frequent buses between Osijek and Hungarian towns. Bosnia and Serbia are also within easy reach.
See more about visiting Slavonia.